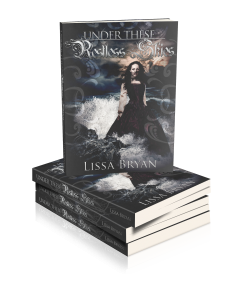 (Today the blog is dedicated to author Lissa Bryan, whose new novel, Under These Restless Skies, has just been released. To commemorate it, we are holding a giveaway with all three of Lissa's books – to be in with a chance of winning, simply leave a comment on any of today's posts.)
Many advice columns for new authors tell them to stick to one genre, and ensure their work conforms to the genre norms and standards. They advise that if a writer wants to explore another genre, they should consider using a different pen name because readers should associate an author's name with one particular type of book.
I suppose I've never been much for following the rules.
I admit, I'm a unique case. I became a writer in an unusual way, and I've chosen an unusual path. I write romance, but in a variety of sub-genres. My first novel was a paranormal romance. The second was a post-apocalyptic romance. I wrote a story based on Greek mythology for a compilation, and my third novel will be a historical romance with paranormal elements. Online, I've written sci-fi, historical, horror, and contemporary stories.
People have asked me why I write in a variety of genres, and all I can say is, "These are the stories that come to me." I've always read in a variety of genres, and my imagination was sparked by those tales. Writing for me is a world of infinite possibilities. And it's been a great experience. I've had readers tell me after reading one of my stories that they've never read anything in that genre before, and it made them curious to explore it further. Actually, readers approach me with positive feedback, like the two below:
Andrea: I am a huge fan of Lissa Bryan, and perhaps the most amazing thing about her is that every one of her books is unlike the last. She can switch genres seemingly effortlessly

Jess Molly: I think it speaks to the modern reader who does not want to be confined to the stereotypes that were the hallmark of publishing houses of old.
Today's reader admires versatility in an author. Sophisticated readers expect sophisticated stories. We don't want cookie cutter books.
I don't have difficulty switching between genres. For me to write, I have to immerse my mind in the story, and even if a story is set in the modern day, it still has its own "world." So, even writing two of the same genre in a row would require the same immersion, the same world-building for each story.
I may not write in a consistent genre, but I hope my readers feel they can expect a good, romantic story from me, even if it takes them on a journey they didn't quite expect. I'm sure there are some readers who say, "I'll skip that one, because it's just not my kind of story," but at the same time, I may be reaching a whole new audience by branching into other genres.
I'm fortunate enough to be with a publisher that doesn't insist I restrict myself to one genre, so I'm going to continue to go wherever my imagination leads me, and hope my readers will come along for the ride.